Cheap Loft Insulation
A lot of consumers do not realize that one-fourth of their house's heat is lost via the roof. However, by adding cheap loft insulation, which is fairly easy to do, you will be able to not only save quite a sum of money over a long period of time but also reduce your carbon footprint. When you compare your heating bills before and after the installation of cheap loft insulation, you will clearly see a difference in the amount of money you have saves. Statistics collected by the Energy Saving Trust state that if each house in the United Kingdom contained loft insulation of a 270-millimetre thickness, consumers could collectively save the environment from 3 million tonnes of carbon dioxide emissions and £520 million in energy costs.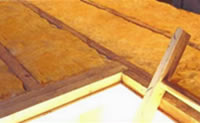 Cheap loft insulation options:
The Lose-Fit, or Blown, Insulation Option
There are several insulations methods you can use in a loft. First, there is the loose-fit, or blown, insulation. This old-fashioned insulation method utilizes cellulose fibres or mineral wool. Since the insulation is blown, the fibres easily come into contact with hard-to-reach areas. Even so, this method is somewhat unsafe and dirty. If you decide to do the blown method, you must wear goggles and protective clothing in order to reduce skin and throat irritation.

The Blanket Insulation Option
Blown insulation is not your only choice. There is a better method that experts recommend more often: blanket insulation. Blanket insulation is another type of cheap loft insulation. The material used in this method is completely surrounded by a protective "blanket" that keeps the installer safe and itch-free. When applying this method, you will not need any goggles or protective equipment. This material does not rot, smell or harm the environment.
Blanket insulation is available in several widths from 100-200 millimetres. Therefore, you will be able to find the right size for your loft insulation needs. In comparison to blown insulation, blanket insulation is quick and easy to install with a craft knife and tape measure. So there is no need to hire the services of a professional insulation installer, meaning you will save even more money in the process.